Now that I've completed my manga about the travel to Scandinavia, I'm gonna start translating it into English.
(Japanese version is from the link below.)
Last summer I traveled Finland, Norway and England for the first time by myself.
I've been traveling abroad for like a decade and I feel things have changed in the last few years. When I was young I had to look up in the guidebook for every information, and now, I just have to google on my smartphone.
As I was saved by the ocean of internet, I'd be glad if I could help someone by posting my travel experience.
This is my first challenge to share my story by manga,  and another to put it into English. I'm not much confident about my English so correct me if anything's wrong or sounds bad.
Now, let's begin.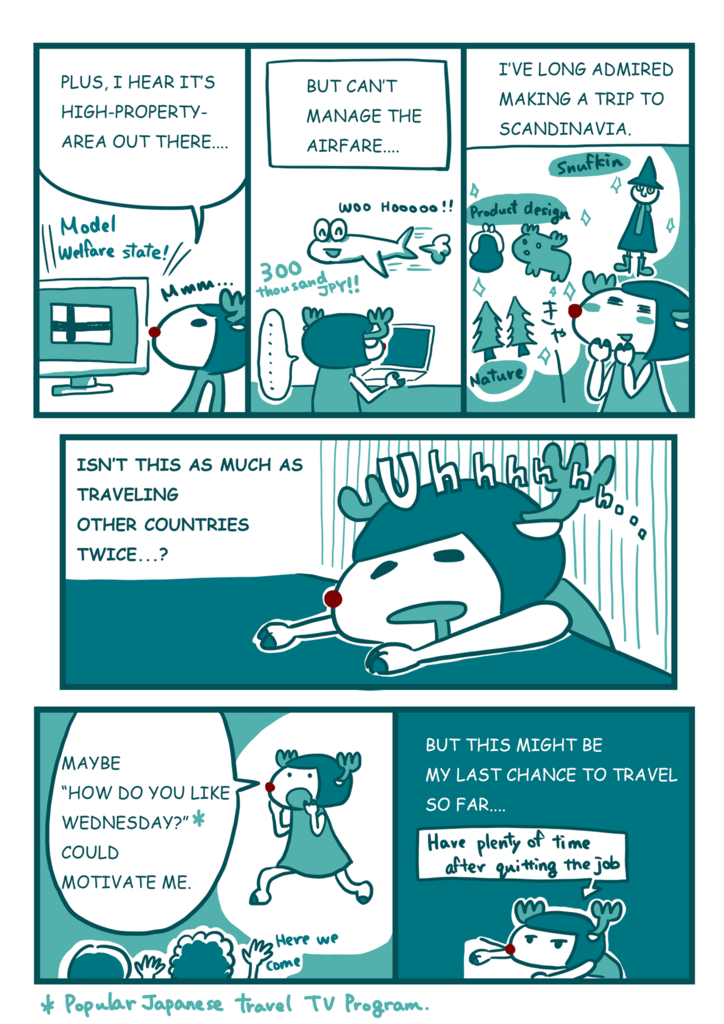 So the journey had started.
In the next story I'll finally enter Helsinki city. 
For further information, see the links below:
"How Do You Like Wednesday?"
A TV program that motivated me. Mr. Oizumi and Mister go on travel and try sorts of challenges.
In the episode of travel to Europe, they try to cover all countries in Europe by car in just a week. Obviously their challenge fails and in the next episode they run through Scandinavian countries as a revenge. 
They experience midnight sun in "Yukon River 1500km" episode. They try to raft down Yukon river in Canada, helped by midnight sun which enabled them to raft all night long.
Expedia
It's just so cheap.
Bed & breakfast service as you know.
Try looking up nice rooms in Helsinki. They're so cute!
Global Mobile
(Japanese Website)
Only available in Japan.
I don't recommend 3G Wi-Fi. Slow and frustrating.
"Globe-Trotter Travel Guidebook"
One of the major travel guidebook in Japan.
I never travel abroat without series of this.
That's it for today!
(To the next episode)
Follow me on Twitter (mainly in Japanese)
You can get paperbacks of "Under the Nordic Sun" Japanese version.
I'm afraid no shipping overseas.
Order at minne
Order at BOOTH
(Both websites in Japanese.) 

Traveling Reindeer's LINE stickers available